For months, Ashley Hebert has been navigating the bumpy road towards matrimony. We've watched our bubbly Bachelorette laugh, cry, and thanks to Bentley, cry some more. But through all the helicopter rides up and Thai boxing knock downs, one thing has stayed the same: Ashley's rockin' bod.
Unlike last season's Bachelorette, Ally, who with every passing week seemed to pack on more poundage (as well as more clothing to cover up said pudge), Ashley had no trouble flaunting her tight tummy and toned legs through her revealing, though sometimes questionable, wardrobe choices.
So, in honor of Ashley's abs, take a look at her top ten looks of the season… after the jump!
1. Gold gown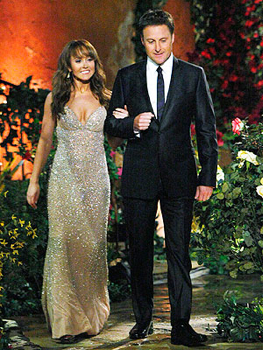 After ditching the beach blonde and donning a new 'do, the aspiring dentist made jaws drop in Episode 1 by wearing a low cut Randi Rahm Swarovski crystal-studded gold gown and mile high strappy heels. If she had any idea of the adventure she'd soon embark upon, our guess is she would have packed flats.
2. Farmer's Daughter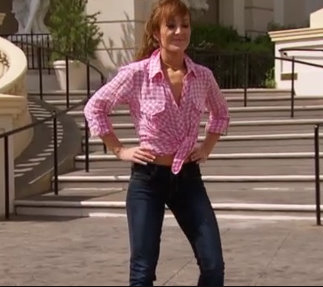 In Episode 2, Ashley greeted her gentlemen callers wearing this come hither "farmer's daughter" get up. Though clearly in LasVegas, an argument could be made that she mistook her location for a dude ranch.
3. Jabbawockeez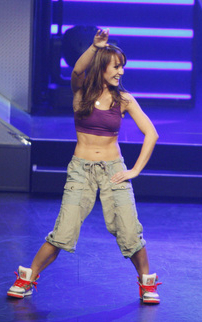 Who knew Ashley was such a homeboy? Channeling her inner Kanye, Ashley hit the stage with the Jabbawockeez to show off her sweet dance moves, and of course those rock hard abs, to her leading men. At least she had on sensible shoes.
4. Mini dress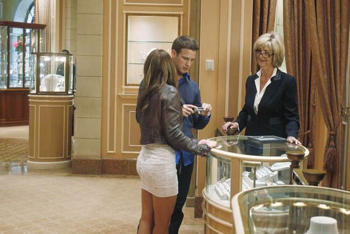 On her date with William (a.k.a the least funny comedian ever), Ashley strutted her stuff in a super sexy mini dress and chic brown leather jacket. In a pinch, she ditched the jacket and walked down the aisle for a faux wedding ceremony in this curve hugging gown. Yes, the outfit was kind of trashy for a chapel – but hey, this is Vegas. Luckily, her dress was white.
5. Wet dog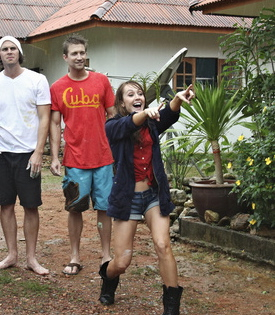 Take it from The Bachlorette's Episode 5, nothing says romance like manual labor. After a rainy day fixing up an orphanage, Ashley's outfit went from red hot to wet dog. The boots are practical, but those microscopic cut-offs and midriff baring shirt? She could have caught a cold!
6. Active wear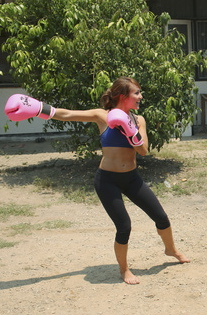 To prepare her boys for a Muay Thai battle, Ashley bludgeoned the bachelors with a belly baring bra top and barely there black leggings. No wonder Ames ended up with a concussion – how could he concentrate?
7. White pants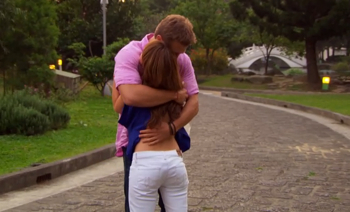 Fast forwarding a few dates to when an overly excited Ryan (finally!) got his much anticipated one-on-one (only to get kicked to the curb), Ashley showed up wearing white pants that were so hideous, half of her blue top couldn't take it and left. Who wants to see a lower back? Stick to what you're good at – looking trashy.
8. Business jacket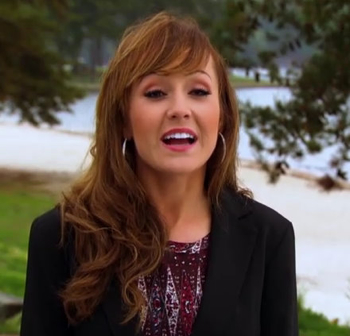 Ashley's MO in those far away lands was to unabashedly flaunt her figure, so what happened when she turned stateside for hometown dates? We're still trying to figure out why Ashley chose to wear this oversized Working Girl blazer on her hometown date with Constantine. She was all business.
9. Tie dye skirt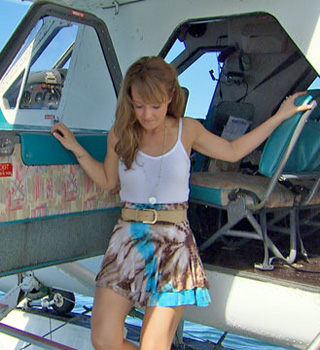 After fleeing to Fiji with her remaining wooers, Ashley wasted no time showing off her stems in this super cute tie dye skirt. The wife beater was a tad iffy, but at least she had the fashion sense to tuck it in. Nothing but class, folks.
10. Finale gown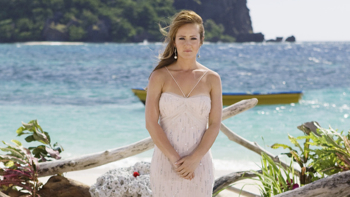 And now, the end is almost here. Before Ashley can choose between JP and Ben, she had to pick a gown to do it in. She went with another Randi Rahm number. It's breezy, soft and breathtaking – perfect for a tropical proposal, right? So why is Ashley frowning? Oh yeah – it doesn't show her stomach.